Multi-angle Virtual Studio From a Single Computer
Vset3D is an easy to use trackless virtual studio program for PC. With no rendering required, you can produce your own, real-time, virtual studio using both live footage and pre-recorded videos. Vset3D also uses NDI® technology which allows you to send and receive video over IP.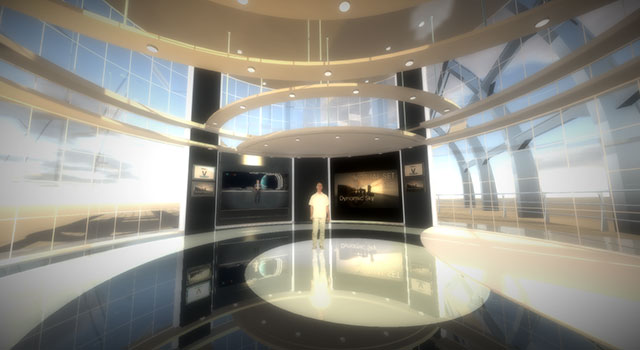 Vset3D Virtual Studio Software

Vset3D offers a true, 3D virtual environment where you can create a wide range of lighting effects within every chosen set. To use Vset3D, all you need is a few yards of green material as a backdrop; dedicated, green-screen studio is entirely optional.
Film yourself standing in front of a green background.
Adjust the video keying using the dedicated tools in Vset3D.
Set 10 virtual camera positions and movements within the set using your computer mouse. Easy. Fast. Efficient.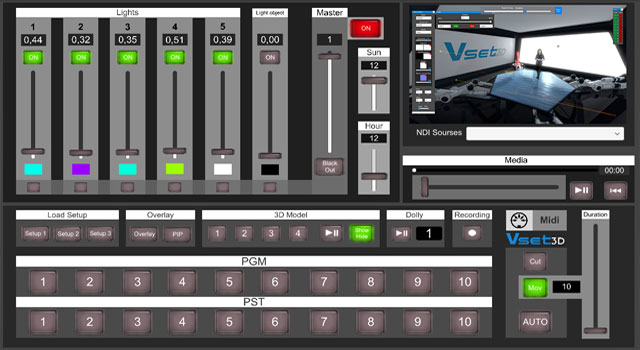 Vset3D Lan-Switcher 2.0 (PC)
Vset3D Lan-Switcher 2.0 is optional software which allows you to control Vset3D over an IP network.
It gives you direct access to Vset3D camera switching, light intensity and color, as well as position of the sun. The features of Vset3D Lan-Switcher 2.0 can be controlled by touch screen or MIDI device, as well as a wide variety of keyboard shortcuts.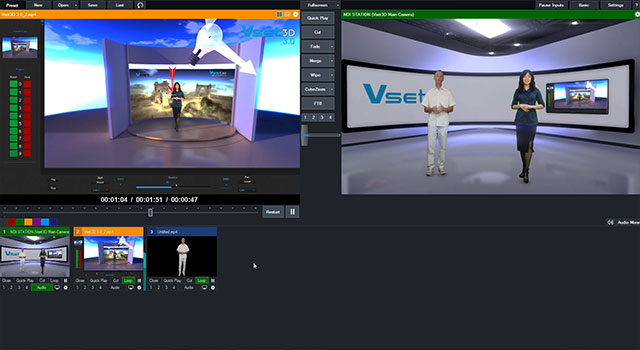 Vset3D & Live production software
Vset3D can be used with any live production software giving you seamless, real-time access to a multi-camera, virtual studio.
Check out this video for how to use Vset3D as a virtual set with vMix® software.
You can do the same with Newtek Tricaster® or software like OBS, VidBlaster WireCast, Livestream Studio.
Thanks to NDI® Alpha32 video, you can also use vMix® chroma key and send transparent videos to Vset3D.