Multi-angle Virtual Studio Software From a Single Computer
Vset3d is the very versatile virtual studio software . With no rendering required, you can produce your own, real-time, virtual studio using both live footage and pre-recorded videos. Vset3D also uses NDI® technology which allows you to send and receive video over IP.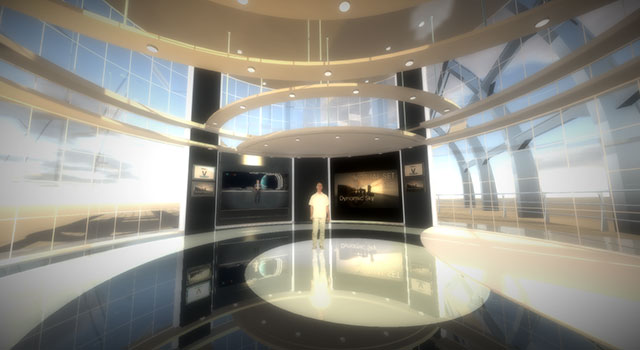 Vset3D Virtual Studio

Vset3D offers a true, 3D virtual environment
where you can greatly enhance the production value of your project. Our powerful and versatile software allows you to use a wide range of lighting effects and camera controls within every virtual studio offering.
Our software is easy to use. All you need is a few yards of green material as a backdrop, a good light source, and a camera to record or stream your video footage.
Once you have the footage on the computer running Vset, you can adjust the video keying to remove any of the green from the shot leaving only you or your subject placed in the virtual studio.
We provide amazing and professional results at a fraction of the cost to create a similar production in the real world. Best of all, we can do this real time! Use our software for your live production.
Or software allows you to set 10 different positions for your virtual camera. These positions can be changed by the production controller giving the appearance that you have a 10 camera shoot. The amazing thing about this is that it only requires one camera to get these results.
To make things even better, we have a dolly tool that allows movement between any two different camera positions. Zoom in or out, pan up or down, slide left or right or any combination you can imagine. The virtual camera  movement rate is completely adjustable and can be controlled by a keyboard or through our LAN switcher software.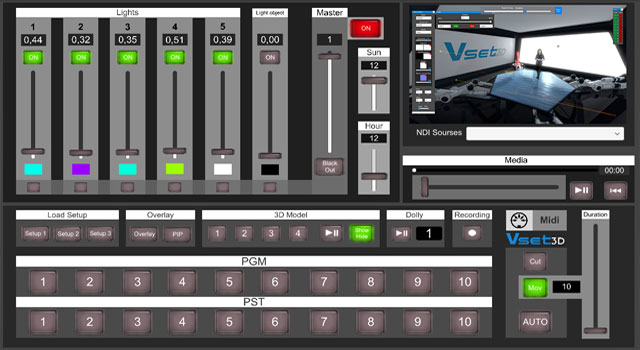 Vset3D Lan-Switcher 2.0 (PC)
Vset3D Lan-Switcher 2.0 is optional software which allows you to control Vset3D over an IP network.
With this optional add-on, you can control the virtual camera during live or in post production. The switcher allows you to move or switch camera positions with a cut or dolly movement as well as change the position of the sun in the sky.

Many of our customers use a windows based tablet to run the switcher software emulating a control surface and some use other touch screen or MIDI devices.

The software has all the features you need to control a production in an easy to use interface.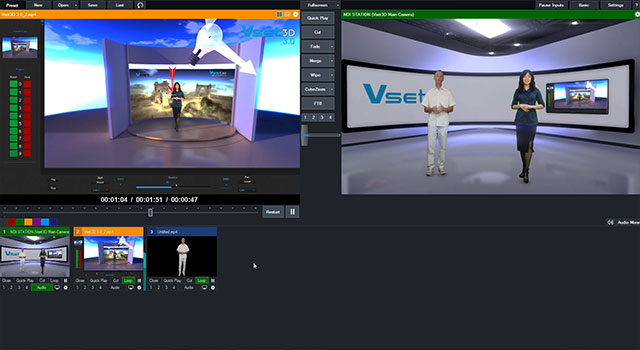 Vset3D & Live production software
Would you like to use VSet3D in a live production? No problem. Our software can be used with any live production software. This gives you a seamless, real-time, multi-camera, virtual studio.
Check out this video for how to use Vset3D as a virtual set with vMix® software.
You can do the same with Newtek Tricaster® or software like OBS, VidBlaster WireCast, Livestream Studio.
Thanks to NDI® Alpha32 video, you can also use vMix® chroma key and send transparent videos to Vset3D.