We proudly offer 2 versions of VSet3D to meet our production needs.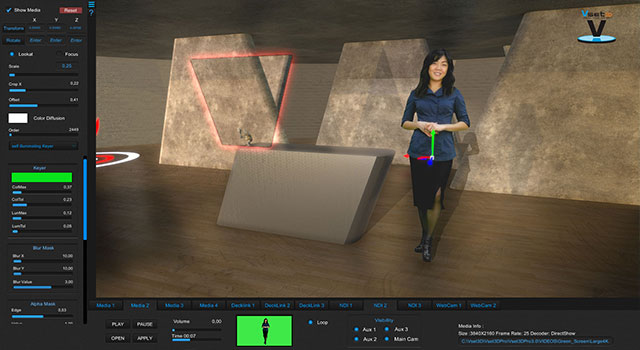 Our PRO version allows you to customize your virtual set and load in your own FBX model for your production.
A FBX file is a 3D file format originally developed by Kaydara for MotionBuilder. The FBX file format provides interoperability between 3D applications. Using this format, you can create your own virtual sets with any 3D editing software or buy an appealing FBX model online to import into VSet3D PRO.
An advantage of VSet3D PRO is that it gives you the ability to adjust textures, colors, glossiness, transparency and bumpiness of any part of your virtual set. You can even assign a video input as a texture for an object within your virtual set (which makes for some very nice effects)
Your production is only limited by your imagination.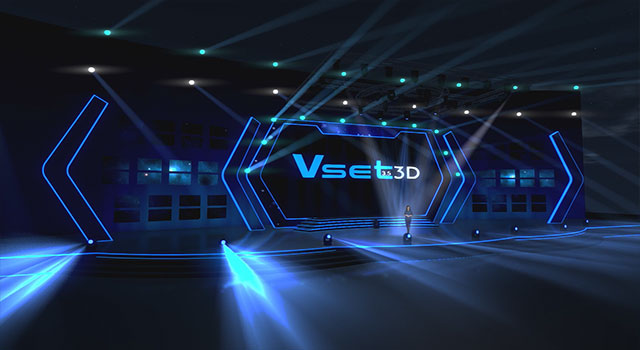 Finally, the SHOW version allows you to add Volumetric lighting and DMX Fixtures.
VSet3D show gives you the opportunity to import your own virtual set just like our PRO version of the software AND it allows integration with other software and controls to allow you to dynamically change lighting within your production just as you would in a live show. If you have already invested in controllers, use them to take your production to the next level.
The list of controllers that are compatible with the SHOW version include:
•  Sunlite Suite
• LightJams,
• Q Light Controller Plus
• DMXControl 3
• ShowMagic
• grandMA
• Avolites
• and more…
Features
COMPARE PACKAGE FEATURES
Live input video (wdm driver)
Live input video (for blackmagic cards)
Live output video (for blackmagic cards)
Newtek ndi® input + alpha 32
Animated fbx model import
New Internal chroma key on media & live input (since 06/08/2021)
Camera depth of field control
Live video picture in picture overlay
Camera position switching
Camera speed movement control
Dolly, automatic camera movement
Ssr (screen space reflection)
Pal + ntsc ready 30 / 60 fps and 25 / 50 fps