Blackmagic design DeckLink card
DeckLink is a series of capture cards that allows you to input and output a wide range of video formats to and from a computer using a PCIe.
They are designed are for professional video and audio capture, and are commonly used in applications such as video editing, live streaming, and broadcast television.
They also support a variety of video and audio formats, including SDI,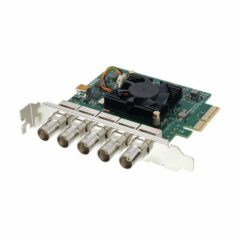 HDMI, and analog connections.
DeckLink cards are available in different models that support different input and output capabilities, such as support for multiple video inputs or support for 4K resolution.
Vset3D and Blackmagic Design DeckLink cards
It is possible for Vset3D to use Blackmagic Design DeckLink cards for input and output of video signals. In order to do so, the user would need to ensure that their Vset3D system is properly configured to recognize and utilize the DeckLink card. This may involve installing the necessary drivers and configuring the software to recognize the card as an input or output device. Once properly set up, the user can use the DeckLink card to capture or output video signals within Vset3D.
Blackmagic Design DeckLink cards resolutions
Blackmagic Design's DeckLink cards support a wide range of resolutions, including SD, HD, Ultra HD, 4K, and 8K. Some specific resolutions supported by different models of DeckLink cards include: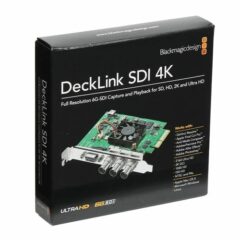 SD: 720 x 486, 720 x 576
HD: 1920 x 1080, 1280 x 720
Ultra HD: 3840 x 2160, 4096 x 2160
4K: 4096 x 2160, 3840 x 2160
8K: 7680 x 4320
Note that the specific resolutions supported by a DeckLink card may vary depending on the model and features of the card. It's important to check the specifications of the specific DeckLink card you are using to determine the resolutions it supports.
It is always a good idea to keep the drivers for your Blackmagic Design DeckLink card up to date, as this can help ensure that the card is functioning properly and at its best performance. Updating the drivers can also fix any bugs or issues that may have been present in previous versions. To update the drivers for your DeckLink card, you can visit the Blackmagic Design website and download the latest version of the drivers. Alternatively, you can use the Blackmagic Desktop Video utility to check for and install updates for your DeckLink card and other Blackmagic Design products. It is important to note that updating the drivers for your DeckLink card may require a restart of your computer, so be sure to save your work and close any open programs before proceeding with the update.