Enhance Vset3D with Unity 3D Addressable Assets
Unity 3D Addressable Assets is a powerful asset management system that allows you to efficiently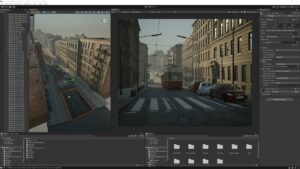 load and manage assets in your Unity projects. When combined with Vset3D, a virtual set and virtual environment creation tool, Addressable Assets offer a seamless workflow for creating immersive and interactive experiences.
Efficient Asset Management:
Unity 3D Addressable Assets streamline asset management in Vset3D by providing a centralized system for organizing and referencing assets. This allows you to import Addressable Assets, such as 3D models, textures, and audio files, into Vset3D. By doing so, you gain access to a wealth of creative assets that can be easily managed and utilized within your virtual sets. This efficient asset management process saves time and effort, enabling you to focus on the creative aspects of your project.
Increased Creative Flexibility:
With Unity 3D Addressable Assets, Vset3D users can tap into a vast library of assets available from various sources, including the Unity Asset Store, third-party asset platforms, or even custom-made assets. This opens up a world of possibilities for creating diverse and visually stunning virtual sets. Whether you need realistic props, detailed environments, or captivating special effects, the integration of Addressable Assets with Vset3D empowers you to bring your creative vision to life.
Unity 3D Addressable Assets provide a seamless integration with Vset3D, enhancing both creative and technical aspects of virtual set creation. By importing Addressable Assets into Vset3D, you gain access to a vast library of assets and advanced technical capabilities.
Incorporating Unity 3D Addressable Assets into your Vset3D workflow unlocks a new level of creative and technical possibilities, making your virtual sets truly remarkable.
Download Vset3D Unity Addressable Tool