ESTAZ esports marketing
In this interview, RobSON from ESTAZ tells us about his experience with Vset3D. They

will be sharing their thoughts on how Vset3D has enabled them to produce professional-grade programs. RobSON will also highlight the features and advantages of Vset3D that have had the most significant impact on their work.
Can you present the structure in which you work? What are its missions?
ESTAZ is the leading e-sports marketing, tournament, and league operation group in MENA (Middle East and North Africa). Our organization's mission is to promote e-sports in the region by organizing and hosting e-sports events, creating content, and working with sponsors and partners to grow the industry.

Can you describe your work within this structure?
As the Technical Director, my role is to oversee the technical aspects of our events, including production, broadcast, and equipment. I work closely with the production team to ensure that our events run smoothly and that we deliver a high-quality experience to our audience. I also collaborate with other departments to ensure that the technical needs of the event are met and that all equipment is in working order. Additionally, I also serve as an In-game Director for esports events and a Producer for non-esports events.
Where can we watch your programs?
Have you been using Vset3D for a long time? What criteria did you decide to choose Vset3D?
As the Technical Director of ESTAZ, it's my responsibility to ensure that we have the right tools and technology to deliver high-quality productions for our clients. When we decided to switch from our 2D studio to a 3D one, we conducted thorough research to find a solution that would meet our needs in terms of budget and capabilities. We wanted a software that would allow us to create realistic and engaging virtual environments for our e-sports tournaments and events.
After considering different options, we decided to go with Vset3D. Its real-time, 3D Ray Tracing Engine and comprehensive feature set stood out to us as key advantages, allowing us to create highly realistic and immersive virtual sets. Additionally, the budget-friendly pricing of Vset3D made it an attractive choice for us.
We've been using Vset3D since October 2022 and we're very happy with the results. It has helped us to elevate the production value of our e-sports events and provide our clients with a unique and engaging viewing experience.
What do you like most about Vset3D?
Vset3D is a very user-friendly and intuitive software that allows us to easily create and customize our virtual sets according to our specific needs. The software provides a vast array of tools and features that enable us to achieve the desired look and feel for our productions,
What was your biggest problem solved by Vset3D?
Removing the 2D sets and introducing the 3D "world" was the biggest problem we faced. Vset3D allowed us to create a virtual studio that looks and feels like a real one, with high-quality 3D graphics and real-time rendering. This has greatly improved the visual quality of our productions and made them more engaging for our viewers.
What types of videos do you produce with Vset3D?
We produce various types of videos with Vset3D, mostly for esports events. This includes live streams and recorded videos featuring remote talents.
HD or 4K ?
Full HD 1080p60.
Can you describe your setup?
For VSet we are using a PC with 3080TI , i9-10980XE getting the talents with NDI from VMIX PC that has RTX A4500 , Ryzen 9 5850X where we do the mixing as well and for output depends .. .  in testing we used a BDM Duo2 and Mini Monitor for sending the output but we finded that the solution of projecting it on display to also check it when is not live , it is way better and splitting the signal with a BDM UpDownCross Converter HDMI to monitor and sending SDI to main production PC.

When you record your programs are you working live or with pre-recorded green screen files?
All 3.
When you record your programs are you working live or with pre-recorded green screen files?
Working with live Vmix Calls feeds allows us to have real-time interaction with our remote guests and talent, making the production process more dynamic and engaging. However, we also use pre-recorded green screen files for certain segments or pre-produced content that requires more intricate editing and post-production.
The Vset3D Control Panel allows you to control animations and camera switching. How do you interact with it, keyboard or network commands from another device?
By using both keyboard and Companion, you have more flexibility and options to interact with Vset3D during your productions..
When using Vset3D did you need to request VSet3D support by email? did you get any relevant answers?
We decided that the best option for us was to get help from Vset3D on our first project. We provided the .fbx file with some references on how we would want the studio to be, and after answering a few questions, we received the final project in just a few days. A good study case for us moving forward.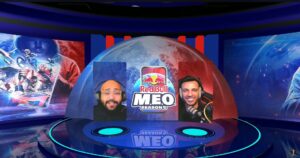 How was your overall experience with Vset3D?
I was pleasantly surprised by the fast response I received via email when I had questions or needed support. The documentation provided was detailed and helpful, and any questions or concerns I had were clarified through email support. I found the software to be easy to learn and optimize, with clear instructions on how to use it effectively. While every project is different and may require additional information or customization, the basics of using and optimizing Vset3D were straightforward and easy to grasp.
And finally, If someone called you and asked if they should do business with Vset3D, what would you say?
For sure I'll recommend it. It is the best budget/quality/reliable solution you can get.