Description
Vset3D Studio

Vset3D Studio is a software that allows you to create stunning 3D virtual environments for your projects. With its wide range of lighting effects and camera controls, it's easy to elevate the production value of your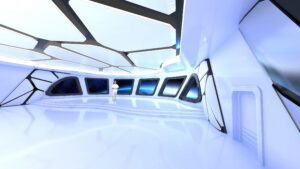 content. All you need is a green screen, a good light source, and a camera to capture or stream your footage.
Once you have the footage on your computer, you can use Vset3D's video keying feature to remove the green screen and place yourself or your subject in the virtual studio.
One of the standout features of Vset3D is the ability to set multiple positions for your virtual camera. This means that you can easily create the illusion of multiple cameras using just one physical camera.
And with the movement tool, you can smoothly transition between any two positions, zooming, panning, and sliding to your heart's desire. The virtual camera movement rate is fully adjustable and can be controlled using a keyboard.
Vset3D is compatible with NVIDIA RTX graphics cards and supports the DirectX 11/12 API for superior rendering quality.
Overall, Vset3D is an intuitive and powerful tool for bringing your virtual studio vision to life.
Features
COMPARE PACKAGE FEATURES
DeckLink Blackmagic In Out

Unity 3D
Adressable importation

Real Time Ray tracing Shadows

Real Time Ray tracing Reflection
Real Time Ray tracing Refraction

You will find all the technical recommendations for an optimal use of Vset3D on our website under the section 'FAQ'